• Other challengers have been hospitalised, Valuev camp warn
• Haye says he has the speed, power and hard-hitting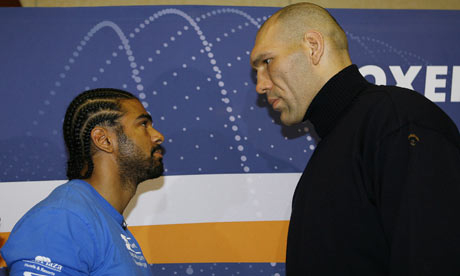 David Haye
has vowed to "walk the walk" when he takes on Nikolai Valuev on Saturday, but the Russian's promoter has reminded Haye that Valuev's previous opponents have been much quieter after the fight.
Valuev's promoter, Wilfried Sauerland, said: "I think we are going to see a very interesting fight on Saturday. We've heard these statements from a lot of Niko's opponents, although he has been more exaggerated.
"However, afterwards at the press conference – if they could attend it because a few had to go straight to hospital – they are all very calm and very quiet. I'm sure it will be the same on Saturday."
Haye, who yesterday checked out of the hotel he had been booked into and has accused his hosts of playing "mind games", challenges Valuev for the WBA heavyweight title in Nuremberg in only his second fight since moving up from cruiserweight. The Briton has called the 7ft 2in Valuev "
a bogeyman
, "a hairy freak" and "a circus act" in the build-up to the bout as well as bringing the champion's personal hygiene into question.
Valuev has reacted to
Haye's taunts
with dignity, dismissing the Englishman's comments, but the challenger is confident he will back up his talk. "I've walked the walk in my previous fights," said Haye, who has used a goblin mask to mock Valuev in publicity stunts.
"I've done a lot of talking along the way but I've always backed it up. I do a lot of talking but when the bell goes, I do a lot of fighting. I know how big and strong this guy is and what his strengths are. He's got a very good jab, I'll be looking for his right uppercut to the body and head. I know all his tricks and I'm prepared for them. You're going to see what it's all about on Saturday night."
Valuev, however, remains unimpressed. The champion from St Petersburg, who has a record of 50 wins and one defeat, and who has never been floored, said: "It's nothing unusual to hear stuff like that and that someone would like to knock me out. But to speak a lot before the fight is easy and everyone can do that. You have to prove it and show what you can do in the ring.
"We'll see what you can do on Saturday. You [Haye] have a few more days to tell us what you intend to do on Saturday but then, finally, we'll see what happens."
Haye believes the focus on his pre-fight talk may lead to
Valuev underestimating him
. "It's going to be about speed and power which I've never lacked," he said. "He's never fought anyone as fast or who hits as hard as me or accurate as me
continues here