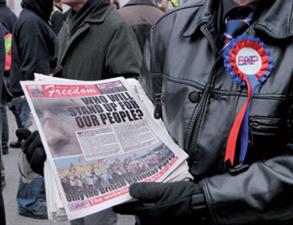 The Royal British Legion is reconsidering plans to accept a donation from a member of the far-right party, but Help for Heroes has confirmed it will accept money from a fundraising auction. Mathew Little explores a dilemma that divides the sector
The question of whether charities should accept donations from the far-right British National Party has come to the fore because of the Royal British Legion case.
The legion last week said it would reverse the decision to accept an expected donation from a BNP member if it felt the gift was being politically exploited. But Help for Heroes has said it would take the proceeds from a book auction that the party is planning to run.
The BNP itself has insisted that its members and local branches will continue to raise money for charity. It has promised to publicise charitable donations by members and branches, so more charities might soon face the glare of publicity after receiving donations they could begin to wish had never been offered.
Richard Marsh, an independent commentator and former director of the Impact Coalition, said that donations from sources such as the BNP would be "profoundly uncomfortable" for a charity and, for the sake of their reputation, they should say no in such circumstances.
"One of the greatest assets any charity has is its reputation, and one of the things that can damage that reputation is receiving donations from sources that don't share the same set of values," he said. "The BNP doesn't believe in the sort of things we do. A charity is perfectly at liberty to say no".
Of seven major charities contacted by Third Sector to find out if they would accept donations from the BNP, only two responded. The Children's Society said "of course not"; Cancer Research UK said it reserved the right to refuse donations where they might damage its reputation or offend supporters, and would consider whether a donation from the BNP would be damaging if the case arose.
Patrick Cox, chief executive of the Small Charities Coalition, said charities should be sure a donation would damage other fundraising efforts before declining it. "You have to have a good reason to turn money away, wherever it comes from," he said. "I don't think you can reject it because you might upset a few people. If it's just because you don't believe in their views, then I don't think that's good enough."
Cox is also chief executive of the Male Cancer Awareness Campaign and said his charity probably would accept a donation from the BNP. "To be honest, I suppose we would," he said. "We are trying to educate every man, so we would take it."
continues here